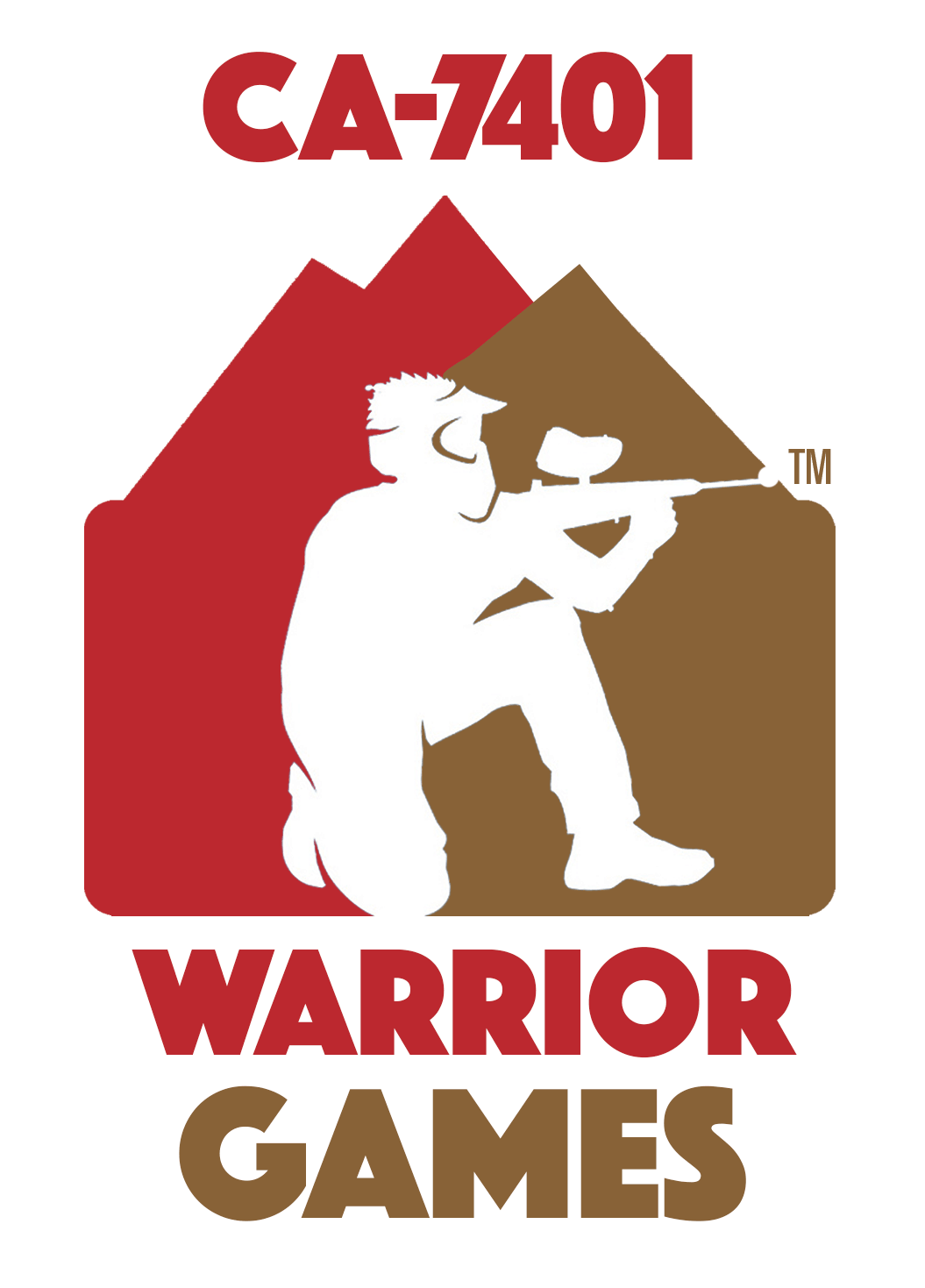 Warrior Games 2020 Paintball
SoCal Warrior Games 2020 is scheduled for Feb. 21st-23rd.
Paintball Games will be held on Saturday, Feb 22nd.
Camping will be available at Green Oak Ranch in Vista from Friday – Sunday.
3rd Annual ULTIMATE FRISBEE tournament to be held SUNDAY morning at the campgrounds.
Camping Location: 1237 Green Oak Rd, Vista, CA 92081
Paintball Location: 1700 Vandegrift BLVD, Oceanside CA 92057
Paintball (Navigators, Adventurers & Adults): $40 per person
Paintball Lite (Ages 8+ including adults, ideal for all beginners): $35 per person
Splatmaster (Ages 6-9): $30 per person
Playland (3 hours, all attractions minus game truck): $15 per person
Playland (add-on to paintball): $5 per person
Extra Ammo: $10 per bag (500 rounds – purchase at park)
Snacks will be for sale at Warrior Games
PRICES ARE SUBJECT TO CHANGE – THESE ARE LAST YEARS PRICES
Camping Cost:  $10 per night / person (including those sleeping in an RV)
RV Hook-Ups:  $20 per RV, per night (electric and water only).  Parking may be located separate from the tent field.   If you do not need hook-ups, parking is free.
Day Use Fee:  $6 per day per person
AGENDA:
Friday, 4pm:  Ranch (Campground) check-in
Friday, 8pm:  Opening Prayer, & Welcome Announcements at the Stage
Saturday, 8am: Opening Prayer and Presentation of the Colors by Troop TBD
Saturday, 10am – 12pm:  Paintball Park check-in (see below for troop assignments)
Saturday 8pm: SoCal Leaders and Parents Gathering to discuss and plan for area needs and events.  Topics:
Sunday, 8:30am: Opening Prayer, Presentation of the Colors by Troop TBD, Worship and Devotion
Sunday 10am: Ultimate Tournament
Sunday 2pm:  Check-out time
Sunday 2-4pm: Trail Maintenance Service project at the Campgrounds (if weather permits)
RANCH (CAMPGROUND) INFORMATION:
Camping is at the Stage Field (large grass field in front of the stage).  First come First Serve.
Camping and meals are done by troops.  So each troop decides how to handle their set up, cooking, campfires, etc.
CAMPFIRE RULES…

The campground has a campfire ring near the creek (reserved for Saturday evening Leaders/Parent cracker barrel)
There will be 2-3 additional metal barrels for fire pits provided by the ranch that can be used in the dirt fields
NO fires on the grass field.
Campground will provide FIRE WOOD.

Campground has showers and running water (bring your own drinking water)
RV spaces adjacent to the Stage Field do NOT have hook-ups.
Archery range will be available for use as long as your troop can provide a Certified Archery Instructor to supervise. Sign up sheet to reserve range will be posted on the Stage.
Pet Zoo open to any troops who want to visit, just coordinate with camp ground host.
WARRIOR GAMES:
Check-In Times:  Warrior Games participants will check-in with their Troop Coordinator who will pick up wristbands and distribute.   Due to the volume of people attending, we will be staggering game times and check-in to avoid overcrowding on the fields.  It will take each group about an hour to get equipment and to be staged for games.  If an individual family can not make the listed games times or it causes an inconvenience, feel free to switch, but please DO NOT switch an entire troop.  If you need to do that, please contact the host to make new arrangements.   Everyone will be on the field from 1pm – 3pm.  Please let the organizer know if there is an issue with the last two time slots.  The first slot is set and closed.  Final check-in times will be posted by TBD:
10:00 am (Games from 11am – 3pm)  – TBD
11:00 am (Games from 12pm – 4pm)  – TBD
12:00 pm (Games from  1pm –  5pm)  – TBD
WE WILL TAKE A GROUP PHOTO AROUND 3:00-3:30pm in front of PlayLand as players come off the field.
WHAT TO WEAR FOR WARRIOR GAMES: We recommend that players wear long sleeves, and long pants, as well as closed-toes shoes. Paintballs do wash out of clothing, however don't wear your "Sunday Best" you will get dirty! Hoodies or bandanas that protect the neck and ears are highly recommended.
WARRIOR GAMES SAFETY GUIDE: 
 This guide came out of an older version of the Health & Safety Guide, but the information is still good for review.  Current Health & Safety Guide refers to the 
"Shooting Sports Guidebook" 
for guidance.  The reference to Warrior Games card NO LONGER APPLIES and it is no longer offered.  
Read More
HOW TO GET ON BASE: **IMPORTANT – COMPLETE AT LEAST 

7 DAYS

 BEFORE ARRIVAL ON BASE** 

The Paintball Park at Camp Pendleton is located on a Marine Installation and there are new procedures to come play at the Paintball Park! The "frequent Paintball Park/Playland patrons" category exists to allow the general public to use select recreational activities, per Marine Corps orders. All persons coming on base are required to supply identification credentials in order to gain access to come play paintball. Information must be received 

a minimum of 7 days prior to your visit 

for each person accessing the Base. If you are planning to visit The Paintball Park in less than 7 days, please call us at 866-985-4932 so that we can assist you with gaining access to the base.